Start a Blog and make a profit right from the start.
So! you've now decided to try this blog of a thing, huh? Great, I think you go with the right decision.
But then how in the world are you going to set this up and probably get a profit out of it?
There is even too much information on the internet and everyone is telling you different things.
which opinion can you go with? and where can you even start?
Don't panic yet, I passed through the same problems while starting out in 2018, just four years ago, you can believe when I say I can still recall all that happened without leaving a single detail out, and yes it's this 2018 that we just left four years ago, I think the steps did not change much or didn't change at all.
When I started blogging in 2018, I knew nothing about blogging, as a matter of fact, I just heard about it the same day, then boom!!! I wanted to try, you don't have to mind me, that is how exactly I do things, I always want to try, and in as much as I read blogging is not easy, my lazy ass won't allow me to work for other people in peace, that's why I have to keep trying things by myself, I really wanted something that I can be my own boss, and that was what got my attention right from the start.
Now I know a lot about blogging and I have been earning from it, thanks to my curiosity and the positive mindset that allows me to try.
I am not some sort of Guru, but I do know the basics and I believe there will help you start a profitable blog.
So, Let's get into it.
Why Did You Need A Blog In The First Place?
Blogging has become one of the fastest ways of communicating and spreading the news, information, and files, and of course, you need one for some of the few reasons below;
It allows the potential for self-growth, blogging makes you reflect back, you will be able to look back on past work and ideas and learn from them.

To connect with like-minded people.

You become a better person and a better writer.

It allows the development of technological skills. (I am now a full stack web developer all thanks to my buggy blog)

It's a great way to express yourself and also a fantastic way to share information with others.

Blogging is the current way to market a business.

And finally, you can make some money, probably the best reason.
I can bet you know about many of these already but you need to be reminded.
Here is the main topic of why we are here.
How to start a profitable blog
Content
Click to jump to topic
CHOOSE A UNIQUE TOPIC FOR YOUR BLOG
It all starts with a good and interesting niche or topic, the first thing you decide after choosing to blog is to select the category where you will blog and then select a topic that interest you.
If you want to create a blog, you don't need a revolutionary idea. But, your blog should be focused on something specific.
Remember that no idea, no matter how good, is truly unique.
But, you have unique experiences. You have a distinct voice. And, you probably have a vibrant personality that will attract others like your family and friends.
When it comes to choosing your blog's niche, there are 2 key questions to ask yourself.
1. Do I enjoy learning about this topic?
If you don't love the topic, it'll show in your writing. You shouldn't even start a blog if you don't love what you're blogging about.
Whatever topic you pick, you need to love it and be naturally curious about it. If not, you'll run out of ideas quickly. Most importantly, you won't be able to consistently create content that will build your audience.
If you are still lost, think about what your family and friends come to you for when seeking advice? It might be fitness, recipes, or relationship advice. You know best.
2. Are there others who are interested in the same things?


You might feel like the only 23-year-old who's obsessed with knitting. But, there are others out there.

Do a quick Google search and you'll find 539,000 results aimed at people just like you.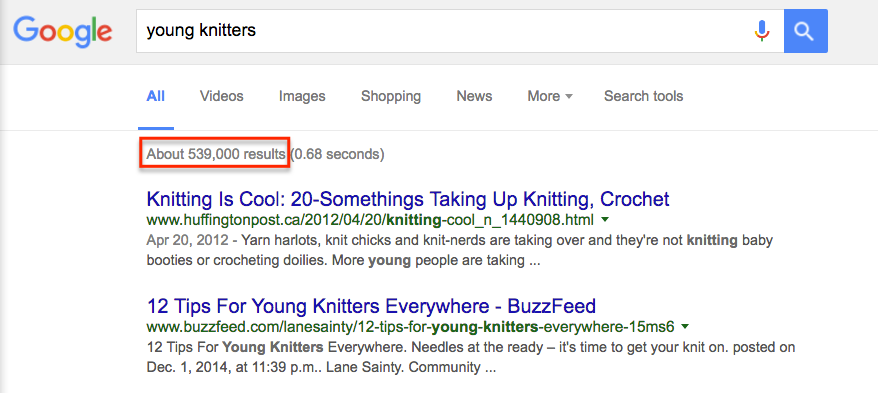 You might be wondering if your idea is too quirky. Or, maybe it's too broad?

If you want to start a travel blog, stay away from generic words like "travel." Choose a more specific topic, like "backpacking."
CHOOSE A UNIQUE NAME
There are millions of blogs and sites available on the internet, all that separates them are their unique names, my blog's name is Tsquare07, and yeah it's unique, you can't find the name anywhere else even in your dictionary when you get out of here and create your own blog, maybe a friend asks you where did you learn how to create a blog, you can tell the person I learned through an article on Tsquare07's blog, now if the person can just type Tsquare07 and end up here, that shows it's unique, that is to tell you that you have to pick a blog name that is completely unique and is not corresponding with another blog(s).
The name of your blog can help you reach more people and increase your search engine rankings, that is why you have to choose a very nice name that goes with what you want to blog about, Just naming your blog Travel blog or News blog is kicking your own ass right from the start, you can choose something like "(your name) travel guide" or better still name it "Travella", it's still unique though you have to run a search on google to know whether another dude has already picked up the name.
GET A DOMAIN NAME
Domain: The domain is basically the URL of your website. Examples: google.com (Google.com is the domain), Facebook.com (Facebook.com is the domain). See? very simple.
The domain name of my website is "Iamtsquare07.com" very unique and matched the name of my blog.
That is why you should pick a unique blog name, maybe you insisted to choose the name of Facebook as your blog name because it's popular and can make you famous, that's never going to happen, rather you end up referring people to Facebook, anytime you tell your friends to search your blog they end up going to Facebook, why?
Because Facebook already bought the domain name and you can never have another Facebook, when you go to buy a domain name and discover that you cant buy facebook.com then maybe you go for facebook2.com as a smart guy, I bet you everything in the world that your blog can never go viral.
To buy a domain name you need to go to a domain registrar, I recommend you buy a domain name with Godaddy because they offer domain name on low cost, or you can buy your domain name with Namecheap.
CHOOSE A BLOG PLATFORM
Before diving into the list, it is helpful to know what you're looking for in a blogging platform.

As a beginner, you'll want a blogging platform that's easy to set up, has a low learning curve and doesn't require any coding skills.

You'll also need to think about what kind of blog you want to create, now and in the future.

As your blog grows, you may want to change the look of your site and add more features for your growing audience. That means it's important to choose a blogging platform that's flexible, with room to grow.

Starting off with the wrong platform can make it very difficult to switch later on.

Lastly, even if you don't have plans to make money blogging right now, it's smart to make sure you have the option to do so in the future.

I recommend you start with Wordpress which gives you a free sub-domain website like tsquareupdates.wordpress.com but if you want to get serious you need to upgrade to a premium plan or you can use a free blogging platform by Google, Blogger.
Blogger is a free blogging service by Google. It offers a quick and easy way to create a blog for non-tech-savvy users.
You can check this Article to know what platform for beginners
CHOOSE A WEB HOSTING
Choosing a web host is the next step for you, Web hosts are companies that rent out their services and technologies to host websites on the internet. Once the hosting company hosts your website, users can access it by typing in your web address (domain name) in their web browser. When they do this, their computer connects to the server your website is hosted on.
It's just a blog right! so you don't have to employ an army of IT pros to make it happen, let a web hosting service do the heavy lifting.
If you go with blogger as your blogging platform, you don't need to worry about web hosting since they give you free web hosting, all you need is a domain name if you're not comfortable with having snake xenia look-alike as your domain name, wanna know the truth? using a sub-domain makes your readers/visitors have less respect for your blog and sometimes think you're fake.

To get started with a self-hosted WordPress blog, you'll be going to need a domain name and web hosting.

I've been recommending Bluehost as a blog/web hosting and domain registrar for years.

From Bluehost, you will get (account gets activated instantly):

Custom domain name (free for the 1st year), with SSL certificate (security).

Website hosting ($2.75/mo+)

Simple, one-click install for WordPress

Free email accounts, like [email protected]

Of course, you don't need to use Bluehost, especially when you already have a web host.

Whichever hosting company you choose, make sure it has "one-click installs" for blogging platforms such as WordPress. This will make your setup process much easier.

If you get stuck registering a domain name and signing up for Bluehost, below is a quick step-by-step guide that I made. Registering a domain name and choosing a web hosting plan on Bluehost (EXPANDS)

Install WordPress
Once you have signed up with Bluehost, you're able to install your WordPress blog.

Don't worry, most web hosting companies offer one-click install for WordPress blogging platforms, so it should be very easy.

Here's what you do exactly to get to install WordPress on Bluehost

Log in to your user profile at Bluehost.

On the "Home" page click on the blue button "WordPress"

WordPress installation starts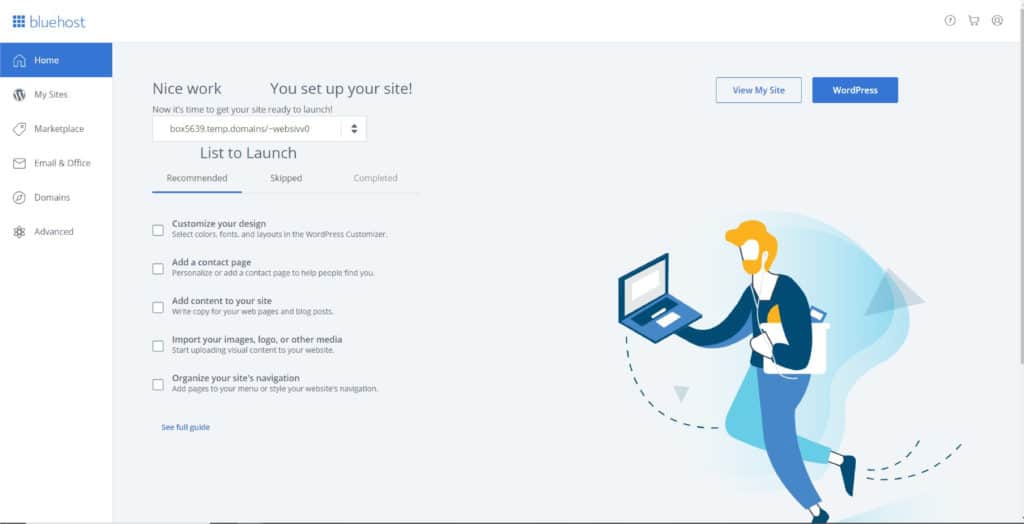 We should note that your domain name activation might take 10 to 15 minutes, so don't freak out about the weird-looking temporary domain name.

Bluehost will allow you to choose your admin login and password for WordPress when it's done installing.

Experiencing any difficulties with this installation process? Read our other guide on installing WordPress on Bluehost.

If you are using a web hosting service, that doesn't offer an automatic or a quick install for WordPress, read this manual installation guide.
CONFIGURE YOUR BLOG
Once you have your admin account for WordPress all set up (the previous step), you can proceed to visit your new dashboard:

Just go to yourdomain.com/wp-admin and input the access details for your admin account. Once you log in, you'll see this: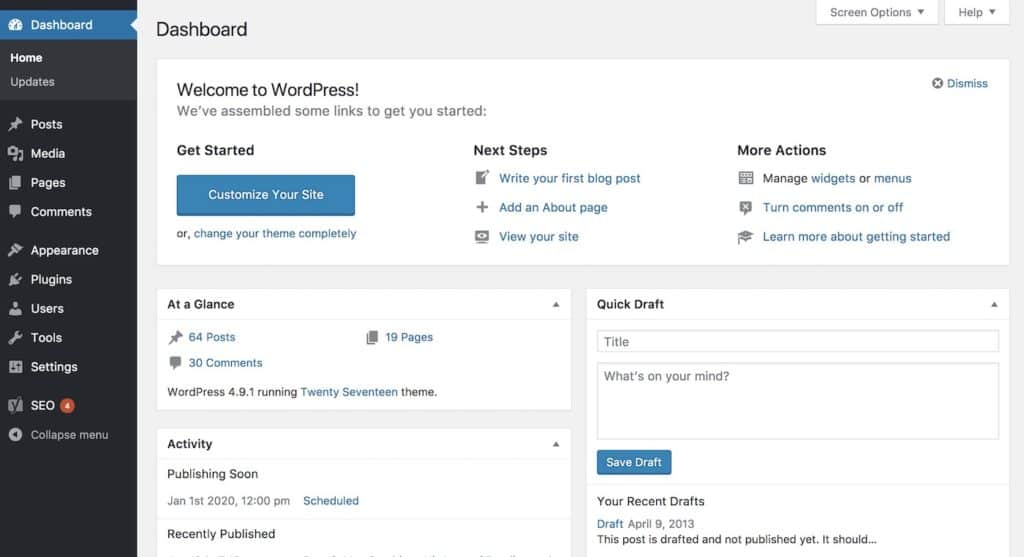 Even though WordPress is already 100% operational, there are still some settings that you should go through:

1. General Settings

Start by going to the left sidebar and clicking on Settings → General.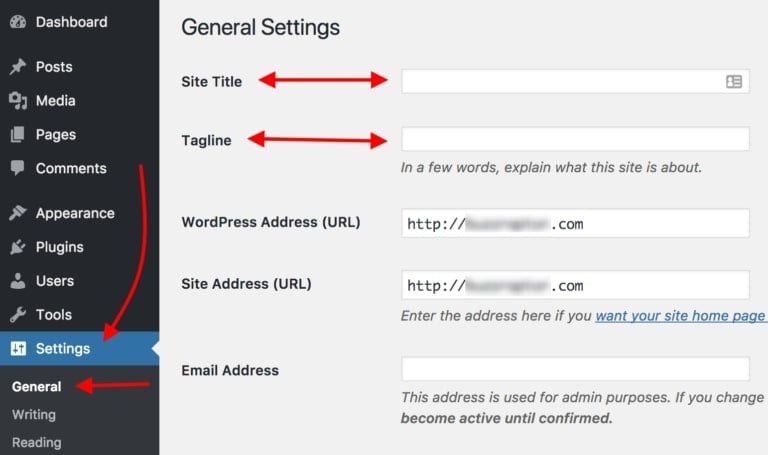 This is where you can set:

"Site Title" – effectively the name of your site. The title is particularly important since it's what every visitor sees first, and also a big part of how search engines determine your rankings. Make sure that you have your business name there.

"Tagline" – think of it as the summary of what your blog is about, in one short sentence. For example: "Recipes that even a beginner cook can handle."

In this section, you can also check if your blog address (URL) is in order, set the timezone you're in and your preferred language.

Another important thing to note is that Bluehost has a Coming Soon feature in the last section of General Settings. Once you're ready to go live with your blog make sure to turn this feature off.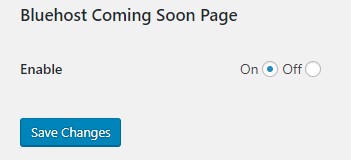 2. Visibility in Google
The next, super-important thing that you must do is make sure that search engines such as Google can index your new blog.

To do that, go to Settings → Reading (again, from the main sidebar) and make sure that the field labeled "Discourage search engines from indexing this site" remains unchecked. Like so:






If you don't do that, your blog might end up literally invisible to Google.

3. Permalinks

The "permalinks" settings define how WordPress will go about creating individual URLs – webpage addresses – for each of your individual blog posts or sub-pages. Though the idea might sound a bit advanced, setting this is very simple.

Just go to Settings → Permalinks. Once there, set your permalinks to the "Post name" variant, like so:





This is the most optimal setting of the ones available and also the one preferred by Google and other search engines.

STEP 5 – Design your blog by choosing a theme

Another great thing about WordPress is that even though you might not be a skilled designer yourself, you can still get a top-shelf look for your blog.

How? Thanks to thousands of WordPress themes that are available out there on the web. Best of all, many of them are free, and you can customize them easily (without any coding knowledge).

Go back to your WordPress dashboard and navigate to Appearance → Themes. Once there, click on "Add New":





Then, switch the tab to "Popular":





What you're going to see are the most popular free WordPress themes in the market. And the best part is that you can install any of them with just one click.

Go ahead and spend a while browsing through this list to find something that really suits your business and the main purpose behind your new blog.

Once you do see a theme you like, you can get it installed onto your blog by clicking on "install" next to the theme's name, followed by "activate".

Note: What you're doing here is just changing the look of your blog. You're not erasing any of your content. You can change your themes as often as you want, without having to worry about your pages vanishing.
CHOOSE A THEME
You can look for beautiful themes online and buy or download free for your blog.
Even though the WordPress theme that you've decided to use already comes with its specific pre-configured design, you can still change parts of it to your liking.
This is all done if you go to Appearance → Customize. What you'll see is the WordPress Customizer: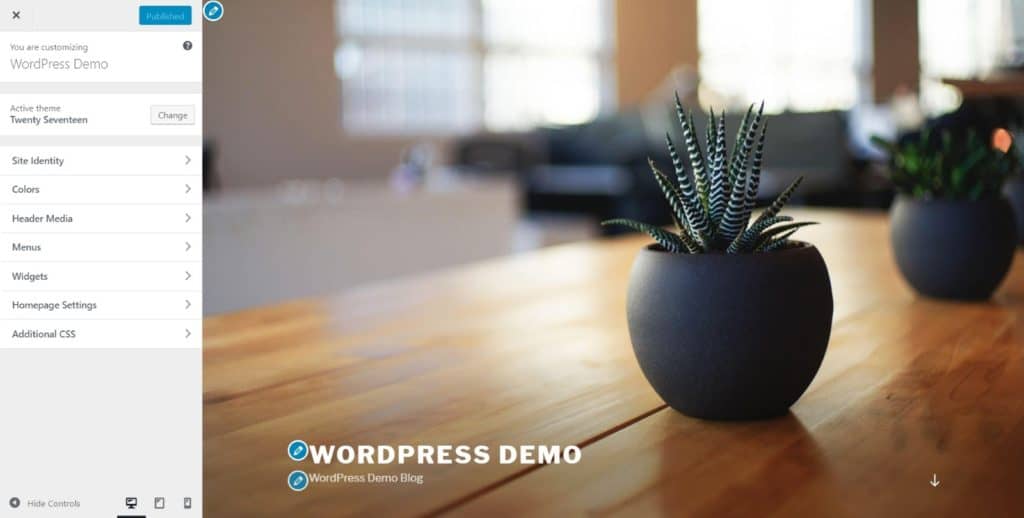 Depending on your current theme, you'll get a different set of options in the sidebar menu, but the most common ones will include:
"Site Identity" – this is where you can set your blog title again, plus add a logo image and a site icon (aka. favicon).
"Colors" – for adjusting the basic colors used throughout the design.
"Header" – for setting your header graphic or image.
"Background" – for setting your background graphic, image, or color.
"Menus" – more on this later on.
"Widgets" – more on this later on as well.
And other, theme-dependent settings.
Let's start with the first option:
1. Add Logo And Favicon
If you don't have a logo yet, you can use these free tools to create one.
If you don't have a favicon yet, you can use these favicon generators.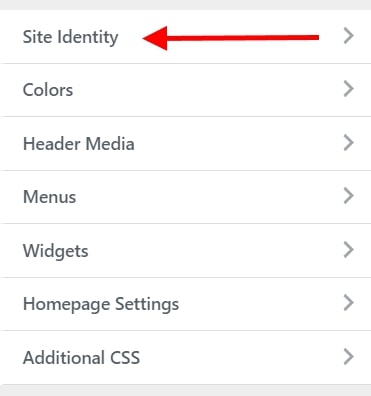 Since you probably already have your site title and tagline set up, what you're going to be doing here is adding your company logo and favicon. Both are quite easy to do:
To add your logo, just click on the "Select logo" button. On the next screen, WordPress will let you know what sort of graphics are acceptable for logos.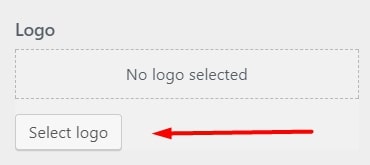 After uploading your logo, you should see it inside the live preview window.
To add your favicon, click on the button labeled "Select image" under the "Site Icon" section: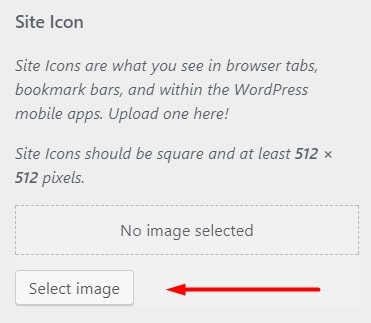 The process is quite similar here as well – WordPress will tell you what sort of an image it's expecting. However, the thing that's different here is that once you do add your favicon, it won't actually get displayed anywhere in the preview. To see it, look at the main top bar of your web browser, next to the blog title. An example from this site:

2. Change Blog Colors
Depending on the theme you're using, you will see a different set of options in this section of Customizer. Here's an example from the default theme: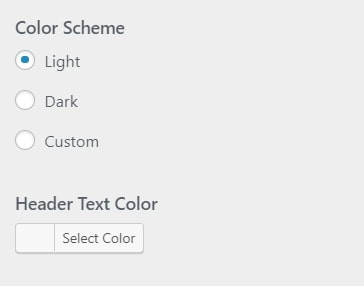 Just a couple of settings here, granted, but playing with these can still help you make your new blog look unique and more in tune with your brand.
3. Add Custom Header Graphic
This is another section that's highly dependent on the theme that you're using.
Though, the most common setting that you'll stumble upon is the ability to add a header graphic/image, or perhaps even a header video. To set your header image, just click on "Add new image":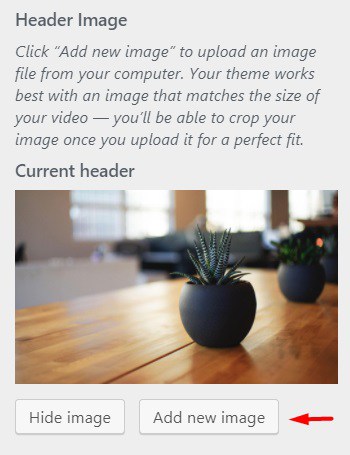 You can pick basically whatever image you wish for your site header, as long as it's of sufficiently high quality. WordPress will let you know about the minimal requirements for your header image right on the upload screen.
4. Change Background
Some themes come with the ability to set the main background for your whole website.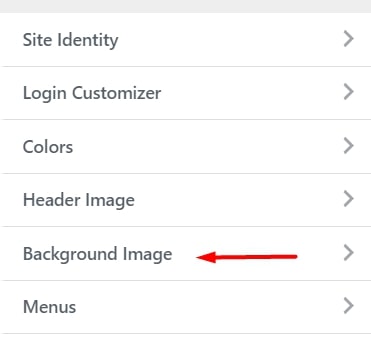 Most commonly, these options will allow you to set a custom image or a solid color to be in the background. Either way, you can get quite interesting effects if you experiment with this long enough.
WRITE YOUR FIRST POST
You can now create your first post, it could be a post about you been excited about sharing your ideas with your audience or you can go with anything that comes to your mind.
SHARE IT TO SOCIAL MEDIA
Now you've successfully created your blog, it's time to share with the world.
This blog will be generating you some profit in less than 3 months, Not sure?